Peter, of Male Pattern Boldness, just made an excellent mountain parka from a Daisy Kingdom pattern, and, in the process, discussed some of the kits that were once available so that home sewers could construct their own.  (He's got a run-down on contemporary patterns for similar parkas at that link, too.)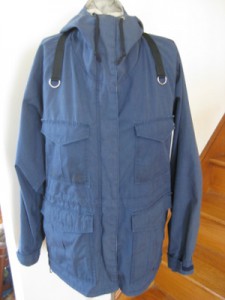 Inspired by Peter's posts, I hauled my own Frostline kit parka out of the attic to immortalize it here.  (I've been meaning, anyway, to post, eventually, all the vintage stuff I've made, preparatory to divesting myself of it all, so this is a good start.)
I wasn't a very experienced seamstress at the time; the results are a tribute to how well these kits were designed.   Today, I wouldn't place those upper pockets so low; if I recall correctly, placement was marked with tiny holes in the main fabric, so moving them was not optional.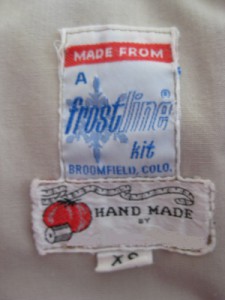 This is a Frostline extra-small size.  I nearly wore it to death, and the 60/40 cotton/poly fabric definitely shows the wear around the edges.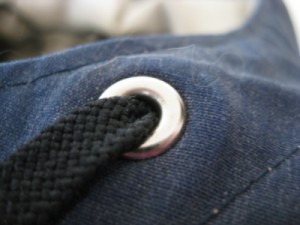 I think the kits came with just about everything you'd need to put it together, including the grommets, and maybe even the thread, which would have been the old horrible Dual Duty that, happily, no one has to put up with any longer.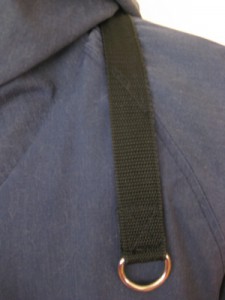 Typically, I couldn't leave well-enough alone and added webbing and D-rings to make a harness for my compact 35mm camera, a constant companion in those days.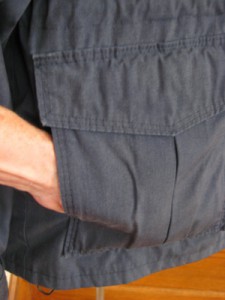 The kits had all the features of the manufactured jackets, including the handwarmer pocket behind the lower bellows pockets.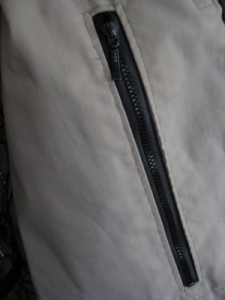 I loved the inside chest pocket, and used it always for my wallet.  It's still a preferred feature of any jacket I wear now.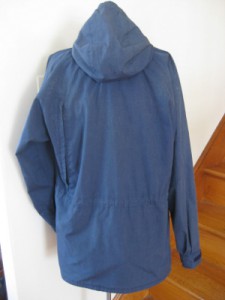 Unlike Peter, I did make the huge pocket that runs across the back.  (You can see the zipper access on the left back, above.)  I used it, too, for magazines when traveling, and found it quite convenient.  Magazine padding just made benches and plane seats more comfortable.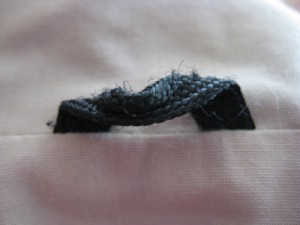 The loop-for-hanging wore a little over time, but that's another jacket essential I appreciated.  The quality of the kit components was very high — the likes of which, like those really sturdy, heavy D-rings, one doesn't see much any more.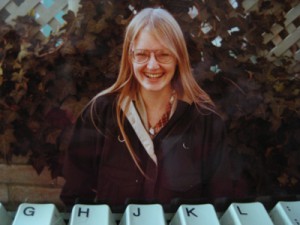 Here's a photo of a photo of me wearing it quite a number of years ago.  (Yeah, I can't get the scanner to work, so this is the best I could do.  I think the keyboard is a nice touch, don't you?)  It was a great coat, though large on me then and now — possibly because the sizes were unisex.
There's a surprising amount of sometimes eccentric information about these well-loved kits online.  This link has some photos of bits of the kit, and some scans of the instructions, which were very clear and helpful.  There's a slightly wacky web page devoted to the history of Frostline here; it's a fun read, even if plowing through the various text permutations is a bit of a chore.