That jacket just makes me shudder, but it's the slacks that caught my eye:  exactly what I wanted, made in denim with a bit of stretch.  (The dress/tunic has possibilities, but perhaps not for someone with my bust.)  But these slacks are so perfect:  I like to think that these are what Jackie Kennedy would wear, if, that is, she ever deigned to wear denim.  They have simple, classic lines.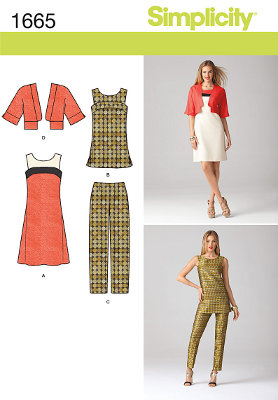 I really don't like jeans. Also, I really don't like waistbands on pants. Also I'm pretty fed up with trying to find pants that fit me well — not to mention that I hate shopping.   My trews need to cover my legs (and backside).  They  need to be comfortable to wear, easy to get on and off, and tuck into my high boots.  No fuss,  no muss, no bother.  These fit the bill.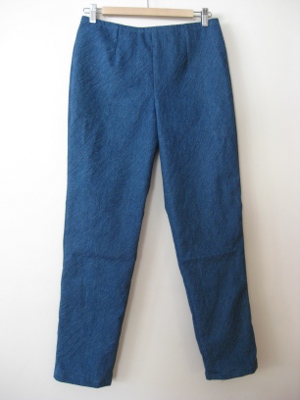 (Is there anything less inspiring than a pair of pants on a hanger?  I'll try to get a few photos up showing these worn, but that isn't happening this week, for sure.  Also, love those creases. These poor guys have been stuffed on a shelf, under a box, and not properly pepped for their big day.  Hey, they're jeans!)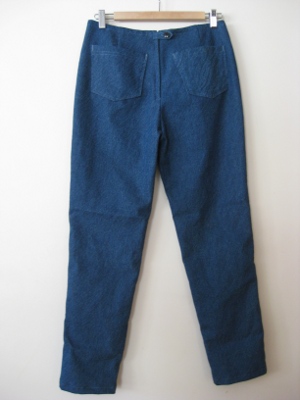 Much to my surprise, this Simplicity pattern proved to be a great foundation for a good fit for me.  These are the third pair I've made in a stretch woven from this pattern, and I've only done moderate tweaking, changing the dart placement and size slightly in the back, lowering the front waist (and raising the back) slightly, and so on.
There's no pocket in the pattern; I added it, because I do need at least a small rear pocket on my pants.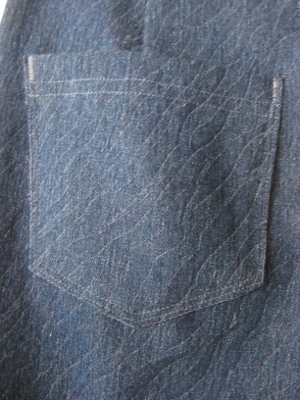 The facings are quilting cotton; it will probably last as long as the stretch in the main fabric.  I always bind my facings — they lie flatter that way, and it's such a nice finish.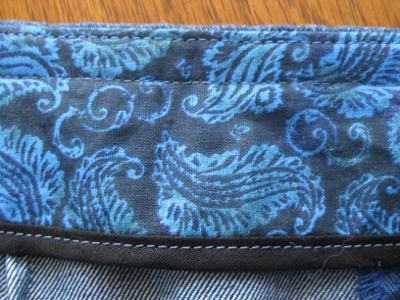 The pattern calls for a side zipper, but I dislike using them, and don't like them in pants, where alterations may be needed at the side seams, so I moved the zipper to the back.   Also, it's a lot easier to put a neatly done zipper into a center back seam than into the far more curved side seam.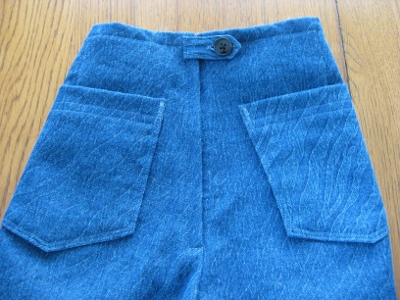 I always zigzag my zippers into place before doing the final stitching.  It only takes a minute, but  hugely limits frustration.    Then I use the quilting guide (see it in the list of feet, below), which makes it really easy to stitch a neat, uniform, lap over the zipper.
One other change I made is the stitching line below the top of the slacks (you can see it best in the photo above).  I didn't do this in previous versions (and probably would never do it on linen slacks), but I like the way it looks on this version.
I always use a fastening at the top of a zipper; sometimes a hook-and-eye is the right thing, but I like these little button tabs best on this style of pants.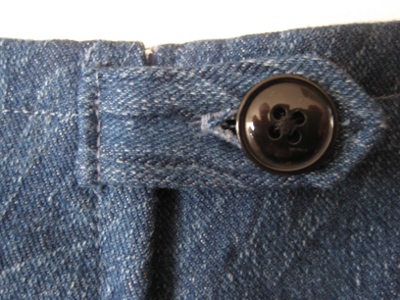 A closure at the top is surety against the zipper slipping open — important for me, especially, since I use light weight dress zippers for comfort — and also reduces stress on the zipper where it it most vulnerable, at the waist.   For this style of slacks, I like this small tab, which is quick and easy to make.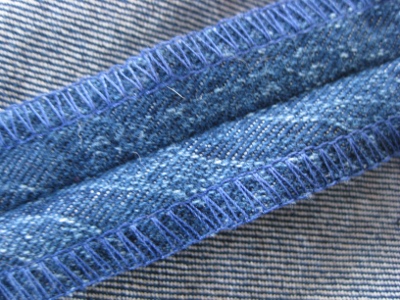 The inside seam allowances are serged, and the stress points reinforced with a special triple stretch stitch.  (Simply double- or triple-stitching will do the trick, though.)
I haven't been very happy with Simplicity patterns in the past; there always seem to be errors in the pattern printing, and, generally speaking, the patterns have no appeal for me.  I've traditionally been  a Vogue/Butterick kind of sewist, but, like so many others, am moving more and more toward independent offerings.  I'm glad I took a chance on this one; it was exactly the base I needed for favorite, everyday slacks.
Feet I used while making this garment (left to right):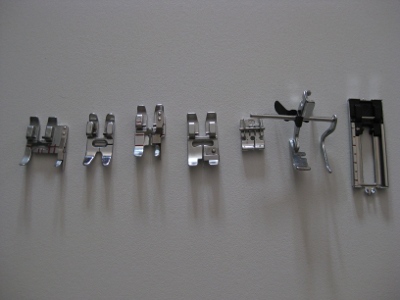 seam allowance guide, 5/8ths inch
standard zigzag foot
quarter-inch right guide foot
narrow edge foot
zipper foot
an edge guide (or quilting guide)
buttonhole template
Looks like a lot, doesn't it?  At this point, I hardly notice when I'm switching the feet in and out, and having the right tool really speeds a project along.  All but the quilting guide snap on and off in a second, so swapping them out is very, very easy — and fast!  Everything I did when making these slacks, though, can be done on a very simple machine — the feet are a wonderful luxury, but by no means a necessity.